We are happy to announce that Parallels has released Plesk 11. You can now have this installed using our automatic installation system.
If you already have an older version of Plesk, you can have it updated automatically via Tools & Settings => Update and Upgrade Settings. Simply activate the point: Upgrade to a new stable version of Panel when it becomes available.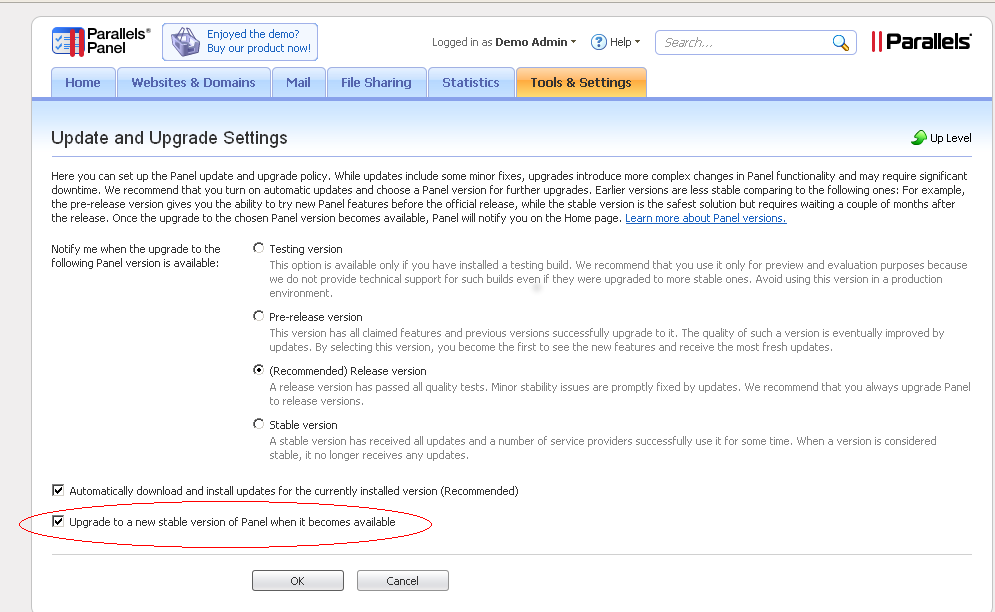 If for any reason this does not lead to the desired update, you can also call it up manually.
Under Linux, please log in to your server as user "root" via ssh and run the following program:
/ usr / local / psa / admin / sbin / autoinstaller.
Under Windows you have to install the Plesk Autoinstaller from the side parallels.com download and run it.
As with all major changes, this update can also cause problems. In any case, we recommend performing a backup of the existing data before the update
As always, the changes in Plesk 11 are extensive. In addition to support for nginx 1.3 for linux and PHP 5.3.10 and the integration of WebMatrix for Windows, work was mainly focused on security.
Plesk 11 executes backup jobs faster and now offers the possibility to protect the archives created with a password. Some tools have also been developed that make the migration of virtual servers with Plesk much easier.
* UPDATE from June 22.06.2012nd, XNUMX *
We have now received the definitive statement from Parallels that the final version of Plesk 11 will be available on 26.06.2012/XNUMX/XNUMX. As soon as this is available we will inform you here and release it for installation with us.
* UPDATE *
The version that was briefly published as the final was withdrawn by Parallels. Only a preliminary RTM version has now been published:
Parallels has released the Release to Manufacturing pre-release version of Plesk 11. Even if this version can be installed using the update function of Plesk, parallel points out that this is a preliminary version that is not yet intended for productive use. If you still want to try this version, which is naturally very close to the final version, you can use the Plesk Installer. On Linux this can be found under: / usr / local / psa / admin / sbin / autoinstaller On Windows, the Plesk autoinstaller must be downloaded from Parallels.com and run.
Best regards and have a nice weekend!
Your blog team from webtropia.com