Good morning together,
We start today with a particularly important message, because the world premiere of the brand new AMD Opteron 3365 CPU starts webtropia.com his new Supermicro Opteron Root-Server series!
Behind the server names Opteron S, Opteron M and Opteron L are dedicated brand servers from the manufacturer Supermicro. The servers convince with excellent performance at a breathtaking price of € 39,99 per month with a monthly contract and no setup fee.
The high-quality branded servers particularly stand out due to the following premium features:
8 core CPU with 2,3 GHz performance each
Redundant 80+ Platinum power supplies
Full remote management (IPMI)
Tier III + data center in Germany
1.000 MBit flat rate
24-7 customer support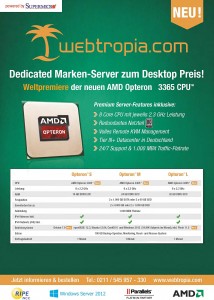 For € 39,99 per month, customers already receive an 8-core server with 16 GB RAM and 2 x 1.000 GB enterprise hard drives with 7.200 rpm or 2 x 60 GB SSD. For this particularly affordable server, too, only server components such as the brand new Opteron 3365 CPUs, ECC memory and enterprise hard drives, which are designed for 24-7 use in servers, are used.
"We are pleased to have launched a dedicated root server offering that is unique and absolutely innovative on the German market. A high-quality branded server with full remote management and a redundant 80+ Platinum power supply for € 39,99 a month has not yet been available on the German market! "Explains Christoph Herrnkind, CEO of myLoc managed IT AG and responsible for the product development of the host webtropia.com.
The flagship of the series, the Opteron L, already has 32 GB RAM and can be equipped with hard drives of up to 2 x 4.000 GB (Enterprise - 24-7) or 2 x 1.000 GB SSD. This server is also available for as little as € 59,99 per month.
The server is guaranteed to be provided within 12 hours in the company's own data center myLoc managed IT AG in Düsseldorf. The data center has an external connection of more than 170 Gbit, a multiple redundant power supply and a highly efficient cooling system, which is essential for saving CO2 Ejecting contributes.
Further details and extensive information on the new Supermicro Opteron servers, which are also available with the new operating systems Debian 7 (Wheezy) and openSUSE 12.3 with Plesk 11.5, are available at
http://www.webtropia.com/de/supermicro-root-server/

We look forward to seeing you and wish you a lot of fun with our new Opteron servers.
Your blog team from webtropia.com