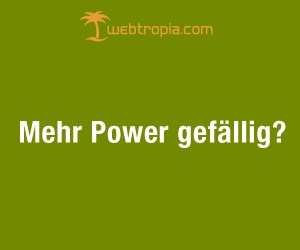 Hello dear readers,
At the start of the week there will be some news from us, because webtropia.com has a few innovations in the Economy Server range for you.
Good to know: The name Economy Server means high-quality dedicated root servers, which can be offered at an excellent price / performance ratio.
From now on you can get our economy server with a 1.000 Mbit fair flat rate, which is already included in the price. The 1.000 Mbit bandwidth is reduced to 20.000 Mbit for the rest of the month if the monthly consumption exceeds 10 GB. From the next month the full 1.000 Mbit will be available again. Alternatively, and also at no extra charge, you can also opt for a 100 Mbit full flat rate with no reduction in bandwidth.
Another new feature for the Economy Server series is the choice of HDDs. Because now you have the free option of choosing between two SATA or two SSD hard drives for the Economy Servers i5-3450, i7-3770 and i7-3930k.
In addition, the surcharge for a monthly contract period has been removed for the entire range of Ecnomy servers. All prices are now understood with a monthly contract period and of course without a setup fee!
For € 44,99 a month, you can now get the Economy Server i5-3450 with an Intel processor (4 x 3,10 GHz), 16 GB DDR3 Ram and 2 x 1.000 GB hard drives with 7.200 rpm or 2 x 60 GB SSD .
Our top model, the Economy Server i7-3930k, has a hexa-core Intel CPU (6 x 3,20 GHz) including Hyper-Threading, 64 GB DDR3 Ram and 2 x 3.000 GB SATA hard drives or 2 x 200 GB SSD hard drives. The whole thing is already available for a low € 99,99 per month, with a monthly contract period and, as described above, without a setup fee!
If you need further details and extensive information on the economy servers, which are also available with the new operating systems Debian 7 (Wheezy) and openSUSE 12.3 with Plesk 11.5 or Tekbase, you can of course find everything here www.webtropia.com
As always, we wish you a lot of fun with our servers and look forward to your opinions.
Your blog team from webtropia.com