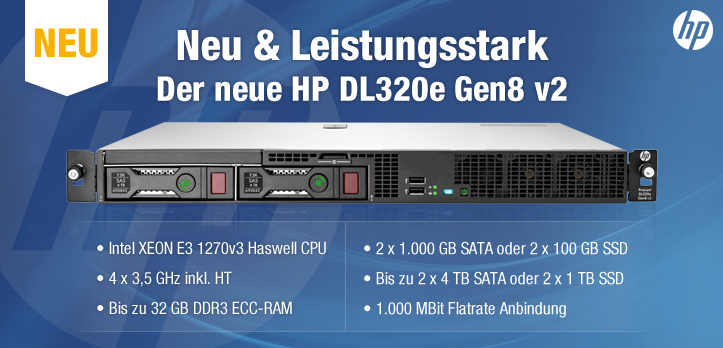 As the first German dedicated root server provider to offer webtropia.com from now on the new HP ProLiant DL320e Gen8 v2, as a dedicated server with the powerful Intel XEON E3-1270 v3 Haswell CPU! What better way to start the new year than with a new product to offer you the latest and greatest that the market has to offer - the new HP ProLiant DL320e Gen8 v2.
Our technology department has tested it extensively and provided it for you with great anticipation. At this point, a big thank you to our technology!
Now back to the HP Professional 3.0… ..
The new HP Professional S 3.0 root server already includes an Intel XEON E69,99-3 v1270 (3 x 4 GHz CPU cores with Hyper-Threading), 3,5 GB at a base price of € 16 per month DDR3 ECC-Ram and a 1.000 Mbit full flat included. The price also includes 2 x 1.000 GB SATA Enterprise HDDs or 2 x 100 GB SSD (94.000 IOPS). The hard disks can also be configured by the customer depending on the requirements. In addition to up to 2 x 4.000 GB SATA II enterprise hard disks, there are also up to 2 x 1.000 GB SSD hard disks available.
Another innovation in the range of HP Professional series from webtropia.com is the switch from tower to 19 "rack servers. In the modern DUS3 data center of the myLoc managed IT AG, the new 19 "HP servers can be operated in an energy-efficient manner and with indirect free cooling. Due to the low depth of the server, a significant saving in space can be achieved. In addition, the HP ProLiant Gen8 v2 server supports the HP Smartmemory function, which protects against data loss and functional interruption with improved troubleshooting while increasing workload performance and optimizing energy consumption.
webtropia.com offers you an optimal product at the best price for both beginners and advanced users.
In addition to the high-performance HP branded server and the large bandwidth, the Professional 3.0 series from webtropia.com particularly features the following premium server features:
- Tier III + data center in Germany
- Optional remote KVM management via ILO Advanced 4.0
- SLA level: Gold with a guaranteed network availability of 99,95%
- 24-7 support & provision within 12 hours
Would you like to know which features the HP Professional 3.0 servers from webtropia.com have?
Then visit us http://www.webtropia.com/ and learn more.
We wish you a lot of fun with our HP Pro 3.0 servers.
Your blog team from webtropia.com