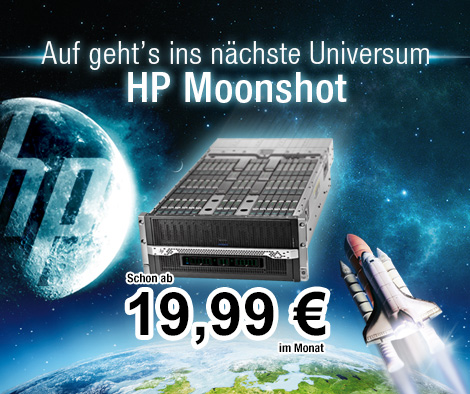 As the first and so far only European hoster to offer webtropia.com is now offering the first hosting product based on the new HP Moonshot systems.
The HP Moonshot hosting solutions are inexpensive dedicated servers that are unparalleled. You get a complete hardware system without virtualization at the best conditions.
The basis of this product group is the HP Moonshot system equipped with the Catridges Borman, M300 and M700. For all hosting offers of the HP Moonshot series, we offer you additional storage space, which is located on a storage cluster consisting of HP SL4500 systems.
As always, the HP Moonshot product line is offered in 3 variants.
The HP Moonshot S is the smallest and therefore also the cheapest variant of this series. This dedicated server is available for 19,99 € per month and includes an Intel Atom S1260 with 2 x 2,0 GHz, 8 GB DDR3 RAM and a 500 GB hard drive. Optionally, you can secure yourself additional storage space for an affordable 5,00 € per 1.000 GB. The additional storage is located on a specially installed storage cluster. This enables us to book additional storage space at any time and to increase it flexibly.
The HP Moonshot M variant of this new series is equipped with an AMD processor, the Opteron X2150 with 4 x 1,5 GHz processor performance and also includes 8 GB DDR3 RAM. Due to the 32 GB SSD hard drive space on this Moonshot module, you automatically receive 1.000 GB of storage space on the high-performance storage cluster. The HP Moonshot M is available for a low € 24,99 per month.
The HP Moonshot L completes this new server product. Like the HP Moonshot S, this dedicated server is equipped with an Intel processor, the Intel Avoton C2750 with 8 x 2,3 GHz. In addition, this server includes 32 GB DDR3 RAM and 1.000 GB hard disk space. As with the other Moonshot products, additional storage can be optionally added at any time.
The server is provided in the company's own data center myLoc managed IT AG in Düsseldorf. The data center has an external connection of over 210 GBit, a multiple redundant power supply and a highly efficient cooling system, which is essential for saving CO2 Ejecting contributes.
Would you like to know what other features the new HP Moonshot servers have?
Then visit us www.webtropia.com and learn more!