Good day together,

there is again news about products at webtropia.com - the Enterprise Special. The basis of the new Enterprise Special from webtropia.com is a dedicated HP SL230s Gen8 server of the latest generation.
In the standard version for € 99,99 per month, this server includes an Intel XEON E5-2620 CPU with 6 x 2,0 GHz performance including Hyper-Threading. Furthermore, this server has 32 GB DDR3 ECC RAM as well as 2 x 1.000 GB SATA or 2 x 100 GB SSD hard drives. The 1.000 MBit flat rate gives the customer the best possible connection to his server.
You're probably asking yourself: "But why Enterprise Special?"
We offer you this new server only with a limited number, which is displayed on the website by a counter. You also have the option of adding a second CPU, additional RAM or additional hard drives at an additional cost, just like with the other Enterprise products.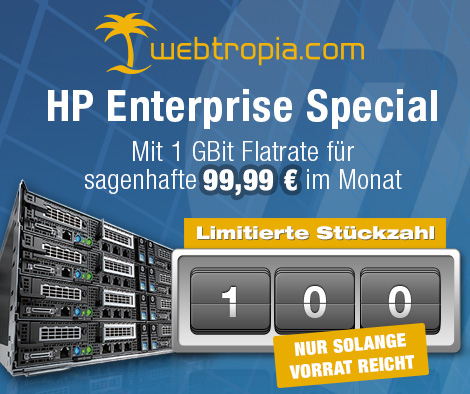 This first-class server comes from HP, which stands for high-performance branded servers. Like the Enterprise Server 3.0 series from webtropia.com, the Enterprise Special is particularly distinguished by the following premium server features:
- Flexible configuration of all server components - Full remote KVM management via iLO 4.0 Advanced - Tier III + data center in Germany - SLA level: Gold with a guaranteed network availability of 99,95% - 24/7 support
The server is made available within 24 hours in the company's own data center myLoc managed IT AG in Düsseldorf. The data center has an external connection of over 170 GBit, a multiple redundant power supply and a highly efficient cooling system, which is essential for saving CO2 Ejecting contributes.
Further details and extensive information on the Enterprise Special and the HP SL230s Gen8 servers, which are also available with the new operating systems Debian 7 (Wheezy) and Ubuntu 14.04 with Plesk 11.5, are available at
www.webtropia.com/de/dedicated-hp-server/hp-enterprise-special.html
We wish you a lot of fun and success with our Enterprise Special
Your team of webtropia.com