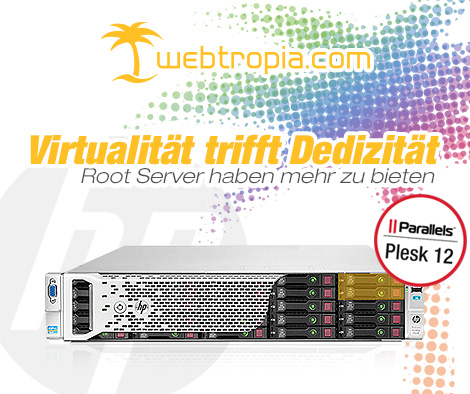 Hello dear friends of the webtropia blog,
A new product category is now available at webtropia.com - the new root servers, which seamlessly close the gaps between a virtual and a dedicated server.
With the mentioned rootservers, the webtropia.com are available from € 29,99 per month, it is a server on which you receive full root (Linux) or administrator rights (Windows). So that you have guaranteed resources in the area of ​​RAM and CPU cores and also have your own dedicated hard drives. You can use the full I / O performance of the SATA or SSD hard drives, because you don't have to share them with other users. The combination of a virtual and dedicated server gives you a perfect mix of excellent performance and an optimal price point.
The new root servers at webtropia.com, which are hosted exclusively on HP servers, are available in four different versions. The Root S, for € 29,99 per month, already includes 4 CPU vCores, 16 GB RAM and optionally 2 x 1.000 GB SATA (7.200 rpm) or 2 x 120 GB SSD (94.000 IOPS) with hardware RAID. In addition, you already get a 1.000 MBit flat rate connection to each server.
You are also given more freedom by choosing the operating system. All root servers are offered with the CentOS 6, Debian 7 (Wheezy), openSUSE 13.1, Ubuntu 14.04 or Windows Server 2012 SE operating systems (€ 19,99 surcharge per month) with the latest Plesk 12. You can also install your own operating systems using virtual management (VNC).
The largest in its class is the Root Server XL, which thanks to its performance and P
performance is convincing. It contains 24 CPU vCores, 72 GB RAM and optionally dedicated 6 x 1.000 GB SATA (7.200 rpm) or 6 x 120 GB SSD (94.000 IOPS) hard drives, which can be operated in hardware raid mode 5 or 10. The Root Server XL is available for € 119,99 a month. As with all products at webtropia.com, there are of course no setup fees for all root servers.
Would you like to know more details about the new root servers?
Then visit us www.webtropia.com and learn more!