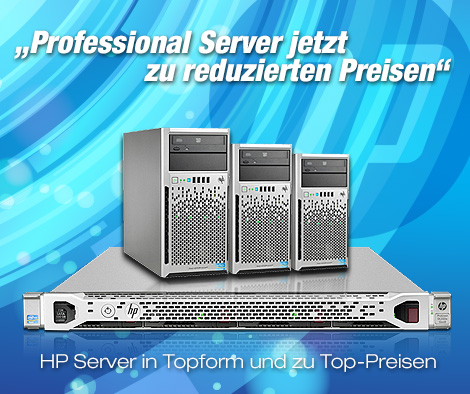 Good morning together,
We are pleased to present you with a new offer after a successful World Cup from a German perspective - the HP Professional series with reduced prices.
You can now get the dedicated Professional Server ML and DL from Hewlett-Packard at greatly reduced prices at webtropia.com. The HP Professional ML is available for a sensational € 49,99 per month and includes an Intel XEON E3-1230 CPU with 4 x 3,2 GHz performance, 16 GB DDR ECC-RAM and optionally 2 x 1.000 GB SATA (7.200 rpm) or 2 x 100 GB SSD hard drives (I / O 94.000). In addition, you get the integrated iLo 4.0 with this server and can use it to administer your server down to BIOS level. Of course, you also have the option of installing the new Plesk 12 on your own dedicated server.
In contrast to the Professional ML, the HP Professional DL has 32 GB DDR3 ECC-RAM and uses the Intel XEON E3-1270 Haswell CPU with 4 x 3,5 GHz performance. With this professional dedicated server you can also choose between 2 x 1.000 GB SATA or 2 x 100 GB SSD hard drives. The HP Professional DL is available now for € 69,99 a month.
With both variants you can also expand the storage space up to 2 x 4.000 GB SATA or 2 x 100 GB SSD. Furthermore, both variants of this server series are equipped with a 1.000 MBit full flat.
Further information and details can be found at webtropia.com/dedicated-professional-server.html
We wish you still a sunny day, lots of fun and success with our professional servers.
Your blog team from webtropia.com