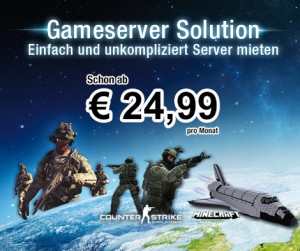 webtropia.com is making a new start at the beginning of the new year. Because as the saying goes: New year, new luck. With the following innovations we want to grab the luck at the beginning of the year. And welcome the year 2015 with a little variety.
Great news for all Minecraft, Counter Strike or Call of Duty fans: The M and L versions of the game server solution are now available at webtropia.com.
With this specially optimized dedicated server, you are able to create up to 30 Minecraft, Call of Duty or Counter Strike servers and make full use of them with your friends. The so-called Teklab web interface simplifies the operation and general use of the server. The price also includes 2 Teamspeak 3 servers so that you can communicate with your comrades and develop tactics during the game.
You can currently play the games Minecraft, Counter Strike and Call of Duty, among others. However, other games such as Arma will follow shortly and will also be made available to existing customers.
In addition, you no longer need to waste time installing or setting up your new server. It is fully available within just 12 hours - and that's guaranteed!
So you just have to sit down and you can start right away. You can get your first game server solution for as little as € 24,99 per month.
Could we arouse your interest? You can find more information directly at webtropia.com via the following link: http://www.webtropia.com/de/dedicated-solution/gameserver-solution.html