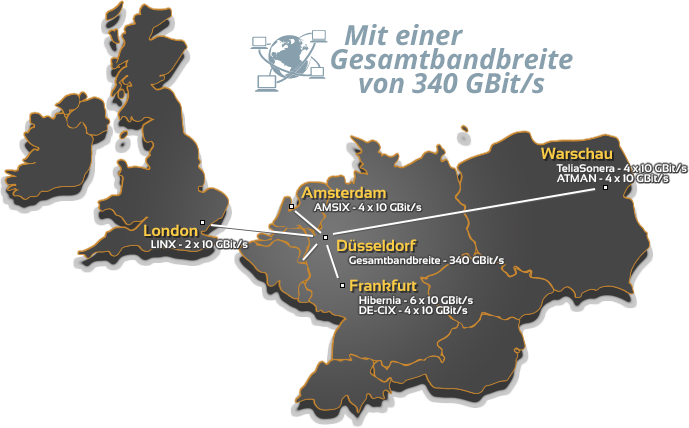 Good morning together,
there is news from our backbone today. We are pleased that we were able to expand this to 340 GBit / s last year and have thus doubled it.
Thanks to this expansion, it has become possible for all of us Dedicated Server and Root server with a 1.000 MBit flat rate as well as ours vServers to equip with a 500 Mbit traffic flat without throttling.

The server is connected via the company's own backbone myLoc managed IT AG. With several fiber optic connections that connect the network nodes in Düsseldorf, Frankfurt, Amsterdam and London and with redundant routers and fiber optic connections, we offer you the highest bandwidths with the lowest ping times. Peering agreements and direct connections to all important providers such as the Telekom ensure perfect network quality.
Here is an overview of the direct connections:
The entire network is monitored around the clock by our Network Operation Center and is optimized for the operation of game servers thanks to this high-performance connection.
You can get more information at webtropia.com