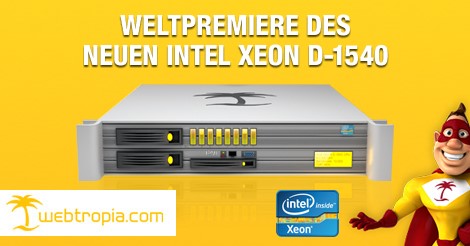 We present today two new features webtropia.com
First of all, we must you - some have already noticed - a completely new website showcase, which was finally successfully created after months of work.
We hope that the new website you like and would be be happy if your on your feedback about our website website@webtropia.com would announce.
The next innovation concerns our products of dedicated servers webtropia.com. We have for you now three new dedicated servers, With the latest and fastest Intel CPs in the offer and that the Pro Server, Power Server and Ultimate Server. The Power and Ultimate servers also quality server boards free remote management (IPMI) are the Supermicro including brand. Used.
The main focus should be doing on the Power server throw, because it comes around the corner with a completely new Intel CPU. The new Intel XEON D-1540 CPU is an 8-core CPU, each with 2,6 GHz performance and impresses with its power and its low power consumption. The new CPU generation from Intel impresses with an outstanding performance with 11.892 points in the CPU Mark test by Passmark (http://www.cpubenchmark.net/cpu.php?cpu=Intel+Xeon+D-1540+%40+2.00GHz&id=2507) And that with a TDP value of only 45 watts. DDR4 equipped with RAM and 2 x 1.000 or 2 x 120 GB SATA GB SSD. The complete server including IPMI is available for € 69,99 per month.
Among the other new dedicated servers there will be next week even more information in our blog, but these are already on webtropia.com .
As always, you can find more information on www.webtropia.com